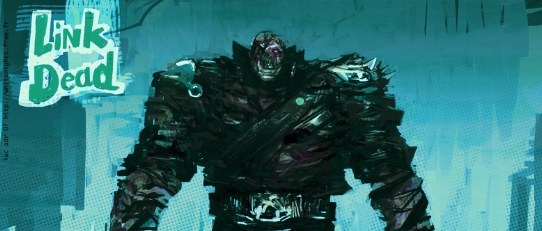 LINK-DEAD is the follow up to the succesful 2d multiplayer shooter Soldat made by Michal Marcinkowski. This game has been created thousands of years ago by Odin, the god of war himself. While hanging on the World Tree for days upside down, tortured, without bread or water, he had a flash of insight. A game that will conquer ALL. Mighty viking warriors used it to train their battle skills before riding into deaths hands. To achieve victory, slay the enemies, conquer their homeland and make slaves of their women. This game brought the viking men pride and fame and thanks to it they reached eternal glory and now live in Valhalla sitting besides Odin's throne. Today, Michal Marcinkowski is bringing that game back for you mortals to play it! Odin has blessed him with Divine Inspiration and serves as a guide in the process of creating the best and most awesome game ever made! This game will rock, it will make a MAN out of you, it will kick your ass!!
Concept
Link-Dead is about…
Grunts
Guns
Machines
Hackers
And ultimately, war
It can be best described as a team-based realistic side-view combat. General mechanics are that of a 2d side-scrolling shooter (eg. Soldat) with mouse-driven combat.
Gameplay and setting
Not so distant future. A war has begun, between men and machines, both in cyber-space and in the real world. The player takes part in this struggle as commanding officer of a team of soldiers and hackers.
Two teams fight each other. Both are located in underground bases. The surface world is the urban world we know today but ravished by many years of war. Each map consists of the underground and the outerworld. The outerworld is where mainly robots fight, it is a dangerous place to be in. Soldier can control robots, droids, terminators, gun turrets, drones, sentry guns etc. They will be controllable via computer terminals located in the underground bases. Terminals and enemy networks can be hacked into – to open, vaults, doors, move elevators, disable sentry guns and gain command over the enemy robots!
Find out more
Download
Website