The new KAG build is just around the corner, so I thought meanwhile I'll update you on some exciting things that are happening behind the scenes of King Arthur's Gold development.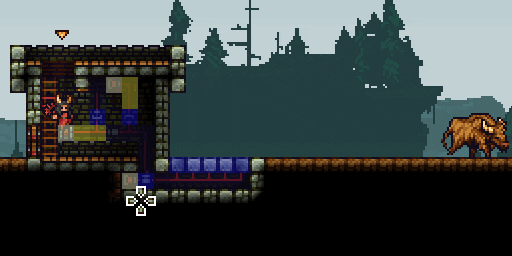 Currently we're concentrating on single player, the menus and the engine. And how does controller support and local co-op sound? More info below 🙂
SINGLE PLAYER
a) Mechanisms
Skinney is working on mechanisms to be used in Sandbox, Challenges and TDM. This will allow us to create even more interesting castles, traps and the like for single-player missions, without having to code everything manually. Also, the mechanisms will be available for use in community maps as well, so fun is to be had by all 😉
b) Missions / Campaign
The single-player will consist of separate campaign missions to complete with a set class and feature an overarching story. You will be able to learn how to play (so that we can make the game friendlier for new players), improve your skills and play bonus missions after you finish the campaign.
c) Unlocking heads
We may hook single-player progress up to a set of unlockable heads so you can show off your expertise in multi-player. We'd love to hear your opinion on this.
CONTROLLER SUPPORT AND LOCAL CO-OP
How cool would it be to plug in some controllers, invite your friends over and play KAG in your living room? We'll try to make it reality, but keep in mind that it will take some time.
MENUS
Norill is moving them to a fully scripted system before they get a full layout redesign. He's about halfway there. We plan to have a poll on the official forums about the menu layout, so that you can tell us what works best in your opinion.
ENGINE
We've been fixing long term bugs related to modding, evalutating optimisation possibilities and improving access to a lot of components. Work from Trench Run is continually being ported over as well, so the more we work on TR, the more features can appear in KAG 🙂
Hope it's sounds good to you. We'd love to hear your opinions and suggestions (via Facebook/Twitter)!
Maciej/trainchaser